iPad at Amazon
Click on picture for more details.
For UK click here.
--------------
Relevant books available at Amazon
Many Gregory of Naz. studies
and translations with links to Amazon
--------------
A selection below
General Introduction
Frances Young
-----
Studies
Christopher Beeley
-----
J. A. McGuckin
-----
Jostein Bortnes
Gregory of Nazianzus: Images And Reflections
-----
Texts and Translations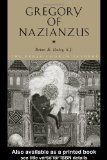 Brian Daley
-----
Martha Vinson
-------
Fuller bibliography
with links to Amazon
For my part, if I am to write the truth, my inclination is to avoid all assemblies of bishops, because I have never seen any Council come to a good end, nor turn out to be a solution of evils. On the contrary, it usually increases them. You always find there love of contention and love of power (I hope you will not think me a bore, for writing like this), which beggar description; and, while sitting in judgment on others, a man might well be convicted of ill-doing himself long before he should put down the ill-doings of his opponents. So I retired into myself; and came to the conclusion that the only security for one's soul lies in keeping quiet. Now, moreover, this determination of mine is supported by ill-health; for I am always on the point of breathing my last, and am hardly able to employ myself to any effect. I trust, therefore, that, of your generosity, you will make allowances for me, and that you will be good enough to persuade our most religious Emperor also not to condemn me for taking things quietly, but to make allowances for my ill-health. He knows how it was on this very account that he consented to my retirement, when I petitioned for this in preference to any other mark of his favour.